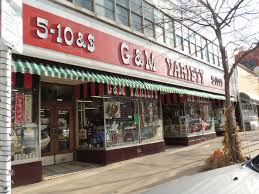 G&M Variety
Step back in time at G&M Variety! G&M Variety has the appeal of an old fashioned five-and-dime, with nearly every inch of space being utilized to showcase its merchandise. The aisles have thousands of items you didn't know you needed! We have all your beach necessities, souvenirs & gifts, toys, puzzles & games, home decor and craft supplies. Come on in and have some fun! Ride Sandy for only a quarter! Pick out your favorite candy and old fashioned soda! Remember the good old days with the original hardwood floors!
READ MORE >

Harding's Friendly Market
St. Joseph's local grocer with everything from fruits and vegetables to beef and poultry and pop and juices to chips and crackers and much more.
The Harding's Company was built on a basic business philosophy, "Harding's customers deserve the best service possible provided by friendly employees."
The St. Joseph location has a bakery as well.
READ MORE >