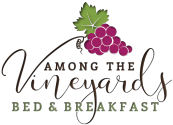 Among the Vineyards Bed and Breakfast
A native of St. Joseph, Barb returns to SW Michigan after 38 years away, attending the University of Michigan, working as an RN, and raising a family; living in SE and central Michigan, Illinois and Colorado. No matter where her travels took her, her heart remained in SW Michigan.While away Barb spent time traveling and staying in numerous B&Bs throughout the US and Europe. Always having a love for cooking and hospitality she spent time working in a B&B in Colorado and heading up teacher hospitality in each of her 3 children's schools. Besides cooking she loves planning parties, making everything coordinate, and radiating a welcoming relaxing atmosphere.Watching the area wineries spring up over the last few years among the lakeshore and seeing the lack of overnight lodging in the area, gave Barb the idea to return home, start a new career using her love of hospitality, and open Among the Vineyards B&B in Baroda.Her hope is that you will feel welcomed in her home, Southwest Michigan's little corner of paradise and be able to RELAX l REFRESH l RENEW.
READ MORE >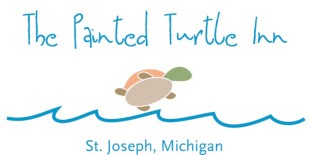 The Painted Turtle Inn
The Painted Turtle Inn is a stylish bed and breakfast lodging facility in Saint Joseph, Michigan. Situated right on Lakeshore Drive, overlooking the bluff and with each room offering vantage points highlighting Lake Michigan, our St. Joseph inn is known for its location, luxury accommodations and gourmet breakfasts. The home features a completely redesigned interior to ensure a clean, quiet and comfortable experience for our guests along with adding modern conveniences including fully updated private baths for each of our five guest rooms.
READ MORE >